Acuvue Oasys with Hydraclear Plus / Acuvue Oasys for astigmatizam with Hydraclear Plus su silikon hidrogel kontaktne leće za dvotjedno nošenje.
Sadrže Hydraclear Plus tehnologiju kod koje se pomoću jedinstvene formule ugrađuje veća količina ovlaživača u sam materijal kontaktne leće. Idealne su za vrlo suhe i osjetljive oči, za korisnike koji provode više sati dnevno ispred računala ili u klimatiziranim sobama.
Odlična propusnost kisika (Dk/t:147) također Vam omogućuje dugotrajno nošenje uz potpunu udobnost. Imaju vrlo visoku UV zaštitu.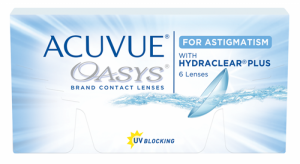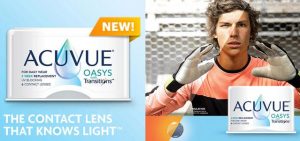 Novo! Acuvue Oasys with Transitions
Fotoosjetljive dvotjedne kontaktne leće Acuvue® Oasys with Transitions™ Light Intelligent Technology™ – prilagođava se u trenucima kada vam smeta jarka svjetlost, kada iz mračnih prostorija izlazite na svjetlost, ukoliko se bavite sportom ili kad se prilagođavate na svjetleće digitalne ekrane.
Fotokromatska tehnologija Light Intelligent Technology™ aktivira se za manje od minute. Leće imaju UVA i UVB filter. No, leće nisu zamjena sunčanim naočalama jer ne pokrivaju cijelo oko.
by Johnson & Johnson